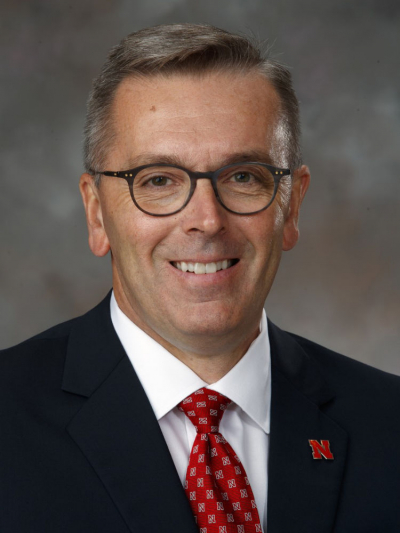 Ronnie D. Green is the 20th chancellor of the University of Nebraska–Lincoln. He was appointed as chancellor on April 6, 2016 and assumed the duties of the office on May 8, 2016. An official installation ceremony was conducted on April 6, 2017. In July 2010, Ronnie Green was appointed as the Harlan Vice Chancellor of the UNL Institute of Agriculture and Natural Resources and Vice President for Agriculture and Natural Resources of the University of Nebraska system. In June 2015, Dr. Green also assumed the interim role of Senior Vice Chancellor for Academic Affairs, the institution's chief academic officer.
Dr. Green was raised on a mixed beef, dairy, and cropping farm in southwestern Virginia. He received B.S. and M.S. degrees in animal science from Virginia Tech and Colorado State University, respectively. His doctoral program was completed jointly at the University of Nebraska–Lincoln and the USDA-ARS U.S. Meat Animal Research Center in animal breeding and genetics.
Ronnie has served on the animal science faculties of Texas Tech University and Colorado State University, as the national program leader for animal production research for the USDA's Agricultural Research Service, and as executive secretary of the White House's interagency working group on animal genomics within the National Science and Technology Council. Prior to returning to the University of Nebraska, he served as senior global director of technical services for Pfizer Animal Health's (now Zoetis) animal genomics business.
Dr. Green is an internationally recognized authority in animal genetics; he has published 130 refereed publications and abstracts, nine book chapters and 56 invited symposia papers; and has delivered invited presentations in 43 U.S. states and 21 countries around the world. He is a past-president of the American Society of Animal Science (ASAS) and has served in a number of leadership positions for the U.S. Beef Improvement Federation, National Cattlemen's Beef Association, National Pork Board, and National Research Council. He currently serves on the board of directors of the Association of Public Land-grant Universities (APLU), Neogen Corporation, and the national Alpha Gamma Rho fraternity. He has been honored as a Fellow of both ASAS and the American Association for the Advancement of Science. Ronnie and best friend Jane are the parents of four children, all graduates of, or enrolled at, the University of Nebraska–Lincoln. Justin, a political science/history student, is a political journalist in Washington, D.C.; Nate is a graduate of the College of Business and Nebraska Law and is with Hausmann Construction in Lincoln; Kelli is an advertising, public relations and global studies graduate and is preparing for the ministry at Princeton Theological Seminary; and Regan is a current student in human development and family science and agricultural communications. Collectively, members of the Green family hold or are pursuing a total of 15 University of Nebraska–Lincoln degrees.