Kansas State University
Applying Alternatives: Leveraging the soil microbiome to fight disease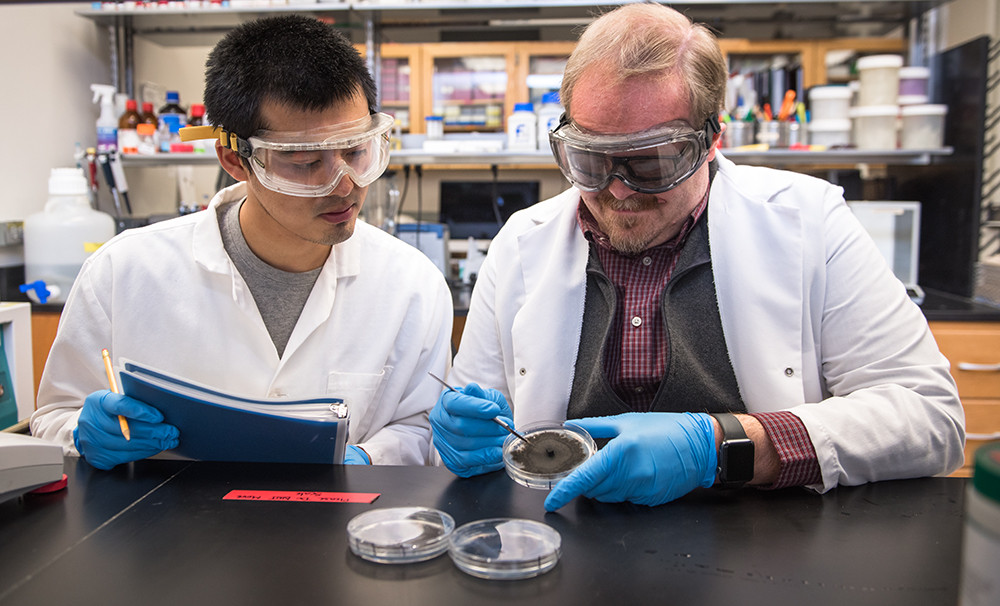 PROBLEM
Soilborne diseases reduce crop yield and quality and can devastate crops.
SOLUTION
Develop new methods of improving soil health to combat disease.
Charcoal rot is a soilborne disease caused by a fungus (Macrophomina phaseolina) that results in significant crop losses. At Kansas State University, a team of researchers quantified the presence of charcoal rot disease in soybeans and have developed alternative management practices to address the disease.
The team planted a mustard cover crop that reduced charcoal rot disease in soybeans. Significantly fewer pathogen colony forming units (CFUs) were observed in both the soil and plants from the treated compared to the control plots. The method of managing the cover crop also had a substantial impact. Tillage increased levels of the charcoal rot fungus, but no-till planting directly into a standing mustard cover crop reduced pathogen CFUs.
A surprising finding is that individual cultivars have different impacts on their environment. Two cultivars had different soil microbiological activity. This indicates that different cultivars of the same species interact with the soil to create a unique soil microbiome.
As a result of the team's outreach, farmers have begun using mustard cover crops in their fields to reduce charcoal rot disease. The research is also developing standard protocols for farmers to incorporate cover crops into standard production. This may be a simple method of controlling soilborne diseases while reducing fungicides that can be harmful to the environment.
This research impacts our understanding of how crop diseases can be controlled and managed. Changing the soil microbiome may allow us to improve plant health, food safety, and public health.
"I am passionately curious to understand how things work. My research has evolved to integrate my understanding of crop production into holistic aspects of how the world works. By understanding how nature works, we can build a better environment."
- Gretchen Sassenrath
RESEARCHERS

Gretchen Sassenrath, PhD, Kansas State University
Chris Little, PhD, Kansas State University
Xiaomao Lin, PhD, Kansas State University
Kraig Roozeboom, PhD, Kansas State University
FUNDERS
USDA NIFA Hatch
Kansas Soybean Commission
Kansas Crop Improvement Association