Penn State
Fortifying Fruit: Harnessing soil and root microbiomes to boost crop productivity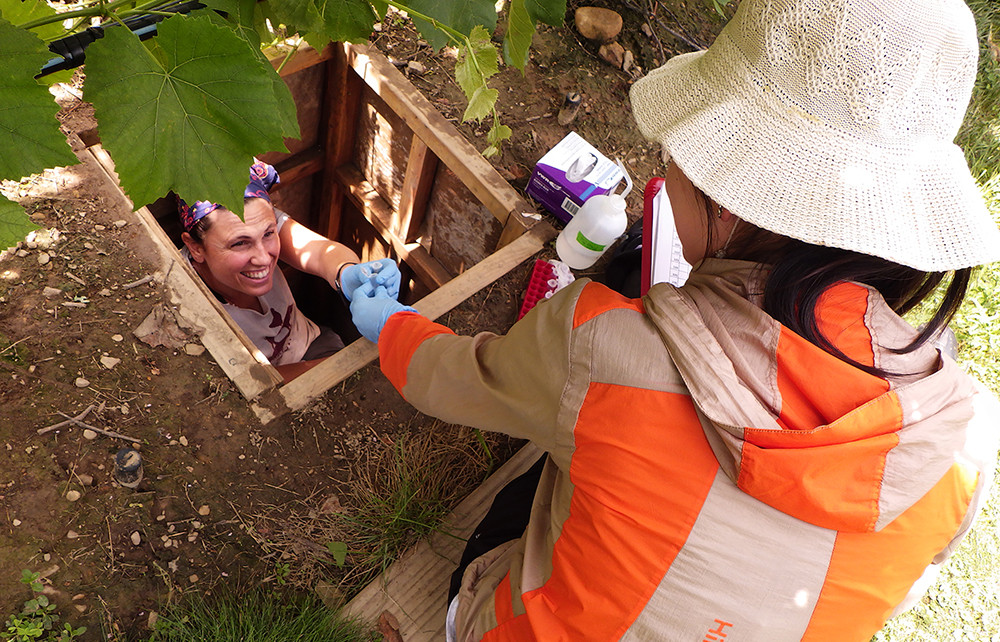 PROBLEM
The long-term viability of fruit crops requires a deeper understanding of how soil microbes and plant roots interact.
SOLUTION
Discover how soil and root microbiomes can be altered to improve plant productivity and soil health.
This Penn State team is working to better understand how soil microbes and plant roots interact in order to provide new tools that maximize production, improve soil health, and reduce the use of agrochemicals.
Farmers have long-term investments in perennial fruit crops, and it is important to adopt management practices that avoid or delay productivity declines. For example, most orchards and vineyards, formerly maintained as monocultures, now include annual or perennial cover crops. The cover crops improve the soil's physical and chemical properties. Less is known, however, on how cover crops impact the soil microbiome and interact with the roots of woody fruit crops. These soil organisms can be critical to long-term soil and crop health, and sustainable productivity.
The team established a multi-year field study to evaluate how cover crop use might change the abundance and composition of microorganisms associated with grapevine roots. Roots, an important but typically hidden half of the plant, have a complex relationship with the soil microbiome surrounding them that is not yet fully understood.
The researchers are also helping scientists refine techniques for sampling soil and roots. Soil is often sampled without detailed consideration of surrounding root characteristics, which leaves out a vital component to understanding how the soil microbiome impacts plant health.
By learning to optimize the interactions in the soil and root microbiomes, this project will help limit the future need for fertilizers and pesticides, promote environmentally responsible management practices, and improve the long-term economic viability of fruit crop production.
I grew up in Italy in a region where the wine industry is hundreds of years old. During high school, I helped local growers during harvest. I am fascinated by the passion, creativity, and persistence of growers as they work to improve wine quality."
- Michela Centinari
RESEARCHERS
Michela Centinari, PhD, Penn State
David Eissenstat, PhD, Penn State
Terrence Bell, PhD, Penn State
Suzanne Fleishman, Penn State
FUNDING
USDA NIFA AFRI
Pennsylvania Wine Marketing & Research Program