University of Tennessee
UTIA/MTSU Partnership Establishes Organic Forage Cropping Systems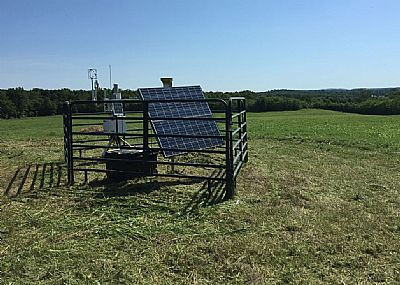 Across the U.S., there is a growing market for organic forages due to increased consumer demand for organic livestock products. The middle Tennessee region is of particular interest because of the importance of forage production and organic agriculture to the local economy. There is, however, very limited science-based information available for farmers who have an interest in transitioning to organic production.
Now a joint team of researchers from Middle Tennessee State University (MTSU) and the University of Tennessee Institute of Agriculture (UTIA) have been awarded a competitive research grant from the USDA National Institute of Food and Agriculture's (NIFA) Organic Transitions Program to establish organic forage systems in middle Tennessee.
The Research team is composed of Song Cui, Project Director and MTSU Assistant Professor of Agribusiness and Agriscience, Nate Phillips, MTSU Associate Professor of Agribusiness and Agriscience, Renata Nave Oakes, UTIA Assistant Professor of Plant Sciences, Sindhu Jagadamma, UTIA Assistant Professor of Biosystems Engineering and Soil Science, and Andrew Griffith, UTIA Assistant Professor of Agricultural and Resource Economics. The UT Extension center at Murfreesboro, and National Resource Conservation Service's local centers located at Murfreesboro, McMinnville and Manchester, TN also are playing vital roles in the project.
"Our proposal was one of only 8 funded by USDA's Organic Transitions Program and we are extremely excited about the MTSU-UTIA partnership, as well as the integration of research, education and extension elements to accelerate use of the information to expand organic livestock production in Tennessee," Jagadamma said.
Livestock production is an important component of Tennessee's economy, providing over 40% of the total agricultural revenue each year; however, the state ranks 41st in the number of certified organic systems in the nation. The disappointingly low number of organic production systems motivated the research team to seek funding to establish more forage-based organic systems in Tennessee. A key objective of their project is to determine the cost of transitioning from conventional forage production to organic forage production, which involves balancing a number of factors including soil quality, weed suppression, and particular cropping strategies. The research team kick started the project by establishing plot-scale forage system at UTIA's Middle TN Research and Education Center in Spring Hill, TN and farm-scale forage systems at MTSU's Experimental Learning and Research Center in Lascassas, TN in the Fall of 2017.
Sindhu Jagadamma
Reprinted from The University of Tennessee Institute of Agriculture News