University of Nebraska-Lincoln
Husker-led E.coli Research Wins USDA award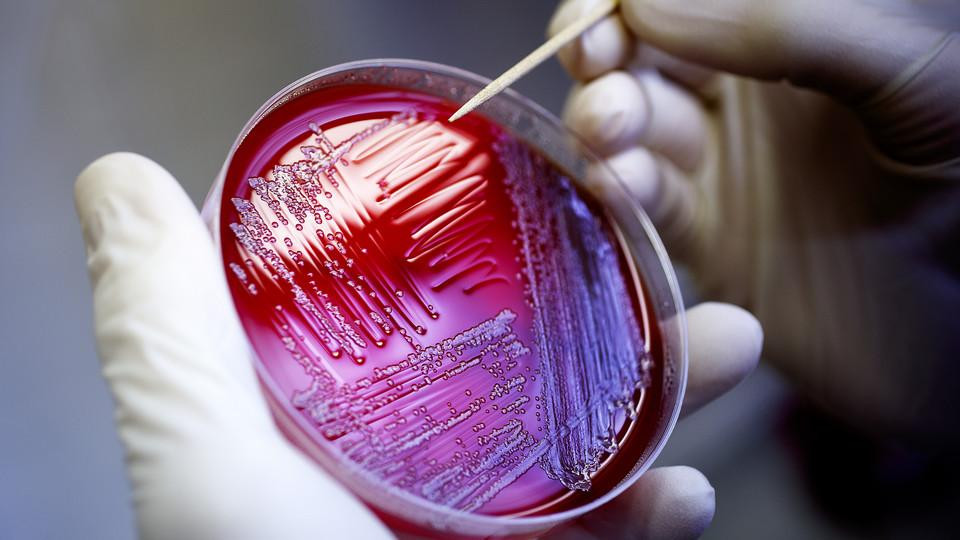 A seven-year national research project led by Nebraska scientists will be recognized Oct. 12 for its efforts to reduce foodborne illness caused by Shiga toxin-producing E. coli.
The Coordinated Agricultural Project (CAP) on E. coli has been selected for a Partnership Award from the National Institute of Food and Agriculture, the research arm of the U.S. Department of Agriculture. The award, in the mission integration category, honors the E. coli project for integrating research, education and extension for the benefit of agriculture, the environment, communities or people.
"It is clear that the Shiga toxin-producing E. coli coordinated agricultural project is having major, cross-functional impacts on beef safety research and education, with positive public health implications continuing for years to come," said University of Nebraska-Lincoln Chancellor Ronnie Green, who nominated the project for the award.
It is the second time in three years that a Nebraska-led project has been recognized through the NIFA Partnership Award program. The Agriculture Water Management Network received the honor for Innovative Program and Projects in 2014.
Launched in 2012 with a $25 million grant from the USDA, the Shiga toxin-producing E. coli (STEC) project involves 51 collaborators from 18 institutions across the nation. Their goal is to reduce the occurrence and public health risks of E. coli strains that can contaminate beef and cause life-threatening illnesses.
Scheduled to conclude at the end of 2018, the project thus far has produced nearly 100 refereed journal articles that have provided new information about how to detect and reduce E. coli in the food system.
Rodney Moxley, Charles Bessey Professor of Veterinary and Biomedical Sciences at the University of Nebraska-Lincoln, serves as the project director. Nebraska researchers have led or collaboratively produced 17 of the 95 studies that have been published so far.
The Nebraska researchers have helped develop two rapid screening tests that offer significant advances over existing detection methods.
"The team led by Nebraska consists of experts across the country that have worked collaboratively to reduce the public health risk to STEC in beef," Moxley said. "Coordinated agricultural projects are designed to bring together comprehensive teams to address complex problems and the STEC CAP has shown that this model works. I applaud the multi-institutional executive management team and our support staff at the university in making this effort a huge success."
Though E. coli is widespread in cattle and humans, harmful strains can be difficult to detect. The O157:H7 strain was first linked to food poisoning after an outbreak involving McDonald's restaurants in 1982. In 1993, more than 730 people became ill and four died after eating hamburger patties tainted with the Shiga toxin-producing bacteria. Other outbreaks and food recalls have occurred periodically since then.
Today the USDA regulates the O157 strain and six other strains as adulterants in beef.
In addition to tracing the genome of various E. coli strains and developing high-tech tests to detect the pathogen, the project has generated data and identified factors that influence the prevalence and concentration of STEC in cattle, validated multiple interventions to control non-O157 STEC in beef processing plants, collected data from plants that have helped identify steps where water recycling and reduction was needed, and filled key data gaps for determining the risk of blade tenderized and brine-injected steaks compared to non-tenderized beef.
They've also produced online training modules on pre- and post-harvest STEC prevention in beef and veal, produced other online training videos on E. coli sampling of beef carcasses for plant employees, studied whether celebrity chefs promote proper food safety in their TV programs and whether popular kitchen gadgets bring meat to high enough temperatures to kill pathogens. The project's educational outreach has included student internships, including students from minority-serving institutions; and educational materials for K-12 students and the public.
Other institutions involved in the project include: Kansas State University; the Eastern Regional Research Center and the Roman L. Hruska U.S. Meat Animal Research Center of the USDA Agricultural Research Service; Virginia Polytechnic Institute and State University; University of Georgia; North Carolina State University; University of California-Davis; University of Delaware; Los Alamos National Laboratory and the New Mexico Consortium; New Mexico State University; University of New Mexico; Texas A&M University; University of Tennessee; Mississippi State University; University of Maryland Eastern Shore; West Texas A&M University; Alabama A&M University and Souderton, Pennsylvania, Area High School.
Reprinted from University of Nebraska-Lincoln INAR News