Iowa State University
ISU Project: Prairie Strips Yield Big Environmental Benefits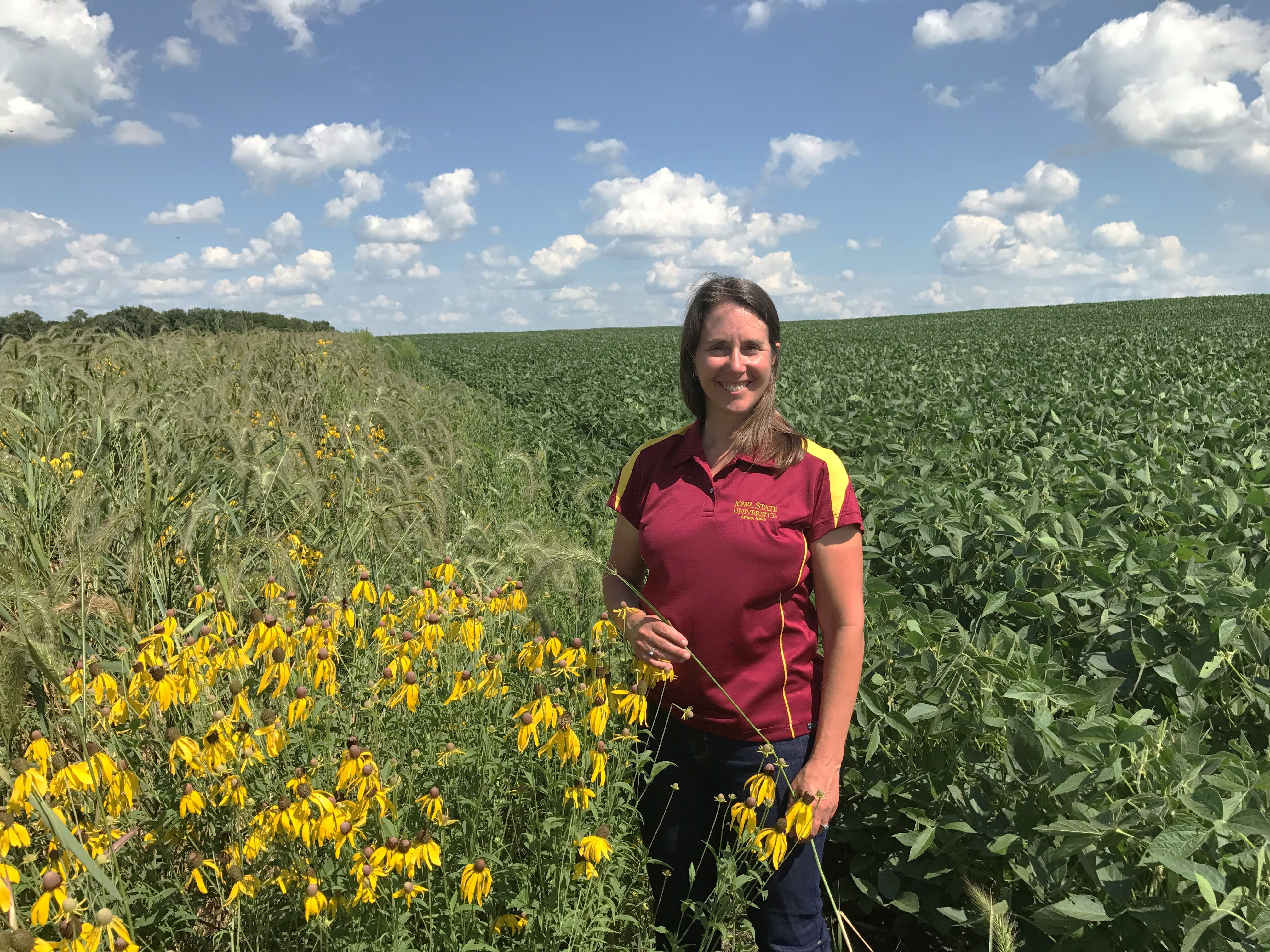 A long-term research project at Iowa State University is marking a major milestone by publishing 10 years of data on the various benefits provided by planting strips of prairie among corn and soybean fields.
STRIPS, which stands for Science-based Trials of Rowcrops Integrated with Prairie Strips, is a group of scientists researching the benefits that may be derived from integrating prairie into crop production systems.
The team published a study in the Proceedings of the National Academy of Sciences, a peer-reviewed academic journal, outlining a wide range of findings, including how a relatively small amount of prairie on certain farmland can deliver major environmental benefits.
"This study puts everything we've worked on together," said Lisa Schulte Moore, a professor of natural resource ecology and management and lead author of the paper. "It's 10 years of data generated by an interdisciplinary team focused on one goal. That's a considerable achievement."
The study includes findings from 12 watersheds at the Neal Smith Wildlife Refuge near Prairie City. The experimental areas featured corn and soybean fields with strips of prairie integrated into the land at various positions and percentages on the row-crop landscape. Each prairie strip contained a diverse range of perennial grass and wildflower species in order to slow the movement of water and ensure that plants would be in bloom the entire growing season to provide habitat to pollinating insects.
The researchers gathered data on dozens of ecosystem performance metrics. The results show prairie strips offer a range of environmental benefits at a lower cost than many other conservation techniques, Schulte Moore said.
Social survey results also presented in the paper portray Iowans' support for agricultural policies that produce outcomes such as those provided by prairie strips.
The prairie strips reduce soil and nutrient loss from steep ground, provide habitat for wildlife and improve water infiltration. According to the study published by PNAS, converting as little as 10 percent of the cropped area to prairie conservation strips reduced soil loss by 95 percent, phosphorus losses in surface runoff by 77 percent, nitrate concentrations in groundwater by 72 percent and total nitrogen losses in surface runoff by 70 percent, compared with all-crop watersheds. Pollinator and bird abundance more than doubled.
"The strips are designed to act as a speed bump to slow water down and give it time to infiltrate the soil," Schulte Moore said.
The study found that 40 percent of Iowa land currently devoted to row crops could realize significant benefits from growing prairie on approximately 10 percent of the area. Most of the land in question features steep inclines where soil erodes easily.
The study's economic analysis found the prairie strips cost less than terraces and compare similarly to the cost of planting cover crops. But prairie strips pose different management considerations compared to cover crops, making them more amenable to some farming operations, Schulte Moore said. The study also found that the benefits derived from prairie strips are considerable compared to the land used to support them.
"We found that a little prairie yields big benefits," Schulte Moore said. "The benefits are disproportionate to the area taken out of crop production."
The STRIPS project began in the fall of 2003 at the Neal Smith National Wildlife Refuge site. Initiating institutions included Iowa State, the U.S. Fish and Wildlife Service and the U.S. Department of Agriculture Forest Service. The new paper also includes scientists from the USDA Agricultural Research Service and a private farmer who worked with the team.
Project personnel and collaborators have helped 47 farmers in Iowa, Illinois, Missouri and Wisconsin install native prairie on their fields, and the team is now working to gather data on a subset of those sites as well. The STRIPS team is planning installations at 11 additional farms in the next few months. The next phase of the project will involve adding new layers to the prairie strip formula, including testing how strips interact with varying soil types and how they work in conjunction with other conservation practices, Schulte Moore said.
Reprinted from Iowa State University News Service